---
Courses
On Board - The Powerboat School run the following RYA Powerboat courses.

Powerboat Level 1: The RYA Powerboat level 1 course is and introductory 1 day to Powerboating. You will learn the basics of how to prepare the boat with all the correct safety equipment and launch the boat correctly. We then move on to all the basic manoeuvres including starting, stopping, steering controls, forward, reverse, picking up a buoy, coming alongside. At the end of the day we finish with a short "Rules of the Road" session.

At the end of the day you will have the confidence to take a small Powerboat in and out of a harbour or port in a controlled and safe manor.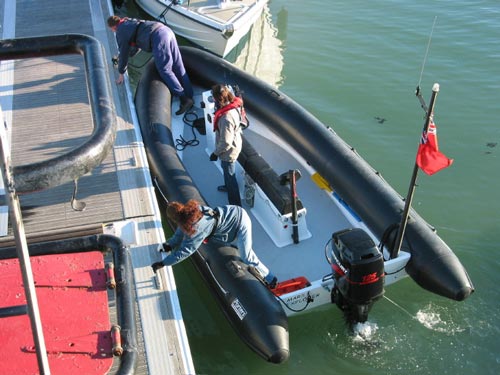 Powerboat Level 2: The RYA Powerboat Level 2 course is the backbone of the RYA Powerboat Scheme and the Minimum qualification you need to gain an International Certificate of Competence (ICC).
This course is over 2 days and covers all the Level 1 basics, but then moves on to close quarters and confined space manoeuvring. Once mastered we move on to more advanced skills including high speed control, rough weather handling, Man Overboard and anchoring. When your ready, we then learn how to navigate a short passage with normal compass and chart work followed with a short passage using GPS. During the 2 days we have several short theory sessions covering tides, weather, craft and engine types and emergency action.

At the end of the 2 days you will be a confident Powerboat driver and be happy to take a Powerboat to sea safely in a coastal region and make short trips. Putting into practice the skills you have learnt and watch your experience and confidence grow.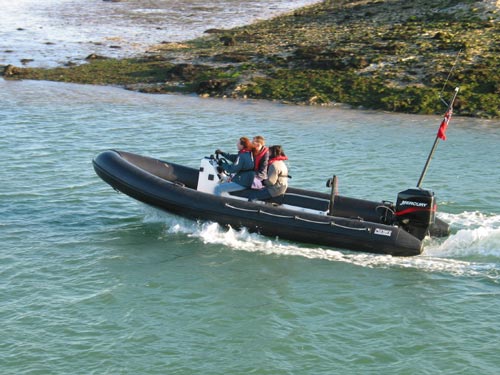 Intermediate Day Cruising: The RYA Intermediate Day Cruising course is new and was introduced in April 2004. It is a 2 day course and intended for those already with a Level 2 certificate or with similar skills and experience. This course covers all the theory and practice you will need to take on the pleasures of coastal cruising in your Powerboat.
We will introduce you to the methods and theory of Passage Planning, Pilotage and Traditional and Electronic Navigation. We then get out on the water and put all this into practice with several extended coastal passages. During the passage we will refine your boat handling skills to correctly handle all the encountered sea states and raise you confidence to a new high.

At the end of the 2 days you will have the confidence and enthusiasm to Skipper a Powerboat and take your friends and family on Coastal Passages.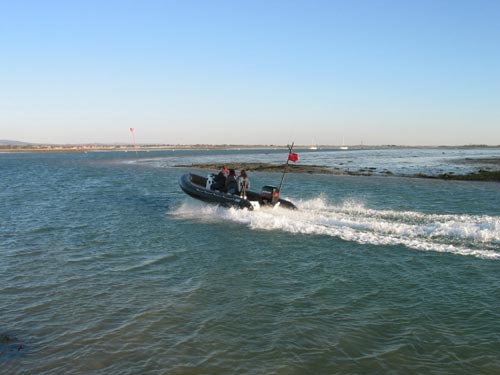 Advanced: The RYA Advanced course is the pinnacle of the RYA Powerboat Scheme. This 2 day course is for the experienced Powerboater and concentrates on developing your boat handling to a very high standard, and introducing you to high speed navigation at night. Already competent at Handling your powerboat and navigating by day we will bring you up to a standard that allows you to go in your powerboat anywhere anytime. It is a prerequisite of the course that you hold a First Aid and VHF Operators certificate.

An RYA Advanced certificate can be commercially endorsed for the skipper that wants to work in the industry as a professional Powerboat driver.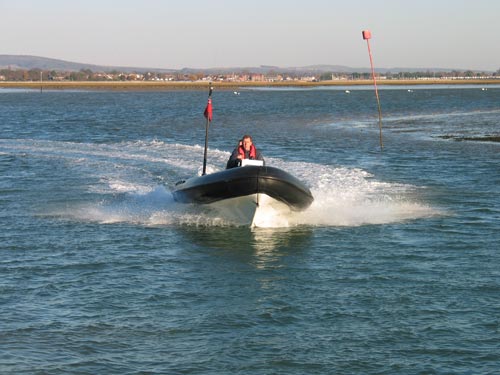 Safety Boat: The RYA Safety Boat course is for all RIB Drivers that need to act as an Escort, Coach or Safety Boat for a Dinghy, Windsurfer or Canoe event. It requires that you already hold a Powerboat Level 2 certificate and have had some experience since gaining it.
Over 2 days we will teach you all the necessary skills to prepare a rescue boat and position it on a race track. And then when required, the correct methods for dealing with a upturned dinghy, canoe and windsurfer. The theory side of the course covers crew and race team communication, race management, first aid and VHF.

On Board can only offer this course for 4 or more people
Day Skipper Theory: Once you have your Powerboat Level 2 or Intermediate Practical Certificate, now is the time to broaden your knowledge of Navigation. The RYA Day Skipper Theory Course teaches you all the skills you need to safely navigate short Coastal Passages. You will spend 5 continuous days in the classroom with a Yachtmaster Instructor as your mentor. He or She will teach you:


Sea Safety

Emergency Procedures and Equipment

Collision Avoidance Regulations

Tidal Streams and Tidal Heights

Traditional Navigation

Electronic Navigation

Bouyage

Pilotage

Passage Planning

Meteorology


With the Day Skipper Theory Skills under your belt you will have more confidence and ability to start taking your Powerboating further a field.

The Course price includes all your course material, a light lunch each day as well as tea, coffee and biscuits.